Agriculture sector restructuring prioritized next year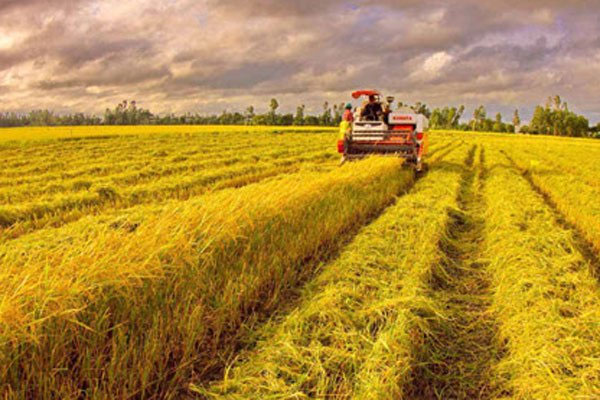 VietNamNet Bridge – Priority will be given to the restructuring of agriculture next year to ensure higher growth for the sector, the Ministry of Agriculture and Rural Development said in a statement.
A big rice field in the Mekong Delta province of Hau Giang. Priority will be given to the restructuring of agriculture next year to ensure higher growth for the sector 
The statement came out after a conference held in Hanoi on December 26 to review the agriculture sector's performance in 2016 and discuss development plans for next year.
Minister Nguyen Xuan Cuong said the sector had made three important achievements this year: growth of 1.2%, export revenue of US$32.1 billion, up 6% against last year, and higher food safety.
The export turnover spike has resulted from a significant rise in exports of major products, including coffee with a 25.5% year-on-year increase, cashew nuts with an 18% improvement, pepper with a 13% surge and seafood with a 6.3% uptick.
As for next year, the ministry will focus on developing 10 major products which can register export revenue of over US$1 billion each and key products of each province.
After major and signature products are determined, the ministry will develop specialized cultivation areas and choose key enterprises while the State agencies assigned to manage the production of those products will make financial and technology preparations.
The targets which the ministry set for next year include growth of 2.5-2.8% and export revenue of US$32-32.5 billion.
Attending the conference, Prime Minister Nguyen Xuan Phuc stressed the need to further improve the quality of agricultural products, add more value to them, instead of focusing only on quantity, apply advanced technology to production, and strengthen the capacity to respond to natural disasters.
The policies which obstruct the development of agriculture should be revoked, he was quoted by a Government news website report.
He told the agriculture ministry to work with the Ministry of Natural Resources and Environment and other relevant agencies to make recommendations for amending the Land Law in a way that facilitates the implementation of large-scale farming projects.
The central bank should take policy steps that encourage banks to lend to agricultural…
Foreign capital still heads to Vietnam
As many as 798 projects added a combined over 5.11 billion USD to their investment capital, down 23 percent year-on-year in project number but up 6.8 percent in value.
Hanoi (VNA) – The total amount of foreign investment poured into Vietnam this year to September 20 reached 21.2 billion USD, equivalent to 81.8 percent of the same period last year, reported the Ministry of Planning and Investment.
(more…)
Why Vietnam Has Become a Promising Alternative for US Businesses in Asia
Vietnam Briefing discusses trends in the Vietnam-US relationship, growing economic ties, and how US businesses can leverage and benefit from moving their production to Vietnam.
Following four decades since the end of the Vietnam War, Vietnam's relationship with the US has changed significantly.
(more…)
CLMV's economic growth crashes to two-decade low due to COVID-19
The COVID-19 crisis has caused the rate of economic growth in the CLMV bloc to be at its lowest in two decades, the CLMV economies could grow at 3.4 percent this year
The COVID-19 pandemic is having a negative impact on CLMV economies through their dependency on foreign-sourced revenue from tourism and exports says KResearchCenter.
(more…)