Hanoi five-star hotel occupancy up to 74%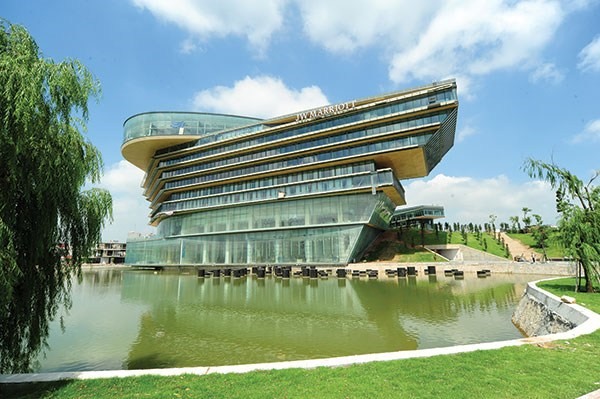 HÀ NỘI – Average occupancy of five-star hotels was up four percentage points quarter-on-quarter (QoQ) and 10 percentage points year-on-year (YoY) to 74 per cent.
This was stated in Savills Việt Nam Co Ltd's quarterly report on Hà Nội's property market.
The hotel segment performed well in terms of occupancy and price in the first quarter this year, the company said.
Average room rate, the average price of each room sold per day, was up 21 per cent QoQ and 41 per cent YoY due to an increase across all segments.
Revenue per available room was up 28 per cent QoQ and 64 per cent YoY.
Người Đồng Hành online newspaper quoted Đỗ Thu Hằng of Savills Hà Nội as saying that the good performance of the five-star hotel segment in the first quarter was partly due to strong growth in the number of foreign visitors to Việt Nam, including to Hà Nội, which received 1.3 million visitors in the first quarter. Meanwhile, supply of five-star hotels in this quarter remained unchanged.
"40 per cent of foreign visitors to Việt Nam would stay in Hà Nội, leading to higher demand for five-star hotels while supply of this hotel segment was unchanged. So, existing five-star hotels in Hà Nội had to operate under full capacity, pushing the average room rate up," Hằng said.
According to the Hà Nội Statistics Office, in the first quarter, there were some 1.3 million international visitors to Hà Nội, a YoY increase of 10 per cent.
In 2017, more than 900 rooms would be introduced, Savills Hà Nội said.
The company also commented on the office for lease market, saying grade A offices in central business districts (CBD) continued to perform well in the first quarter.
Total office space was 1,640,000sq.m, increasing 0.3 per cent QoQ and 1.9 per cent YoY.
One Grade A project entered the market, supplying some 5,200sq.m of office space.
Average rents decreased 0.2 per cent QoQ but increased 1.2 per cent YoY. Average occupancy was up slightly. Grade A projects in non-CBD witnessed weaker performance compared with their CBD counterparts.
In 2017, five new mostly Grade B projects would supply some 158,400sq.m. Future supply would remain concentrated in the west and secondary areas. – VNS
Foreign capital still heads to Vietnam
As many as 798 projects added a combined over 5.11 billion USD to their investment capital, down 23 percent year-on-year in project number but up 6.8 percent in value.
Hanoi (VNA) – The total amount of foreign investment poured into Vietnam this year to September 20 reached 21.2 billion USD, equivalent to 81.8 percent of the same period last year, reported the Ministry of Planning and Investment.
(more…)
Why Vietnam Has Become a Promising Alternative for US Businesses in Asia
Vietnam Briefing discusses trends in the Vietnam-US relationship, growing economic ties, and how US businesses can leverage and benefit from moving their production to Vietnam.
Following four decades since the end of the Vietnam War, Vietnam's relationship with the US has changed significantly.
(more…)
CLMV's economic growth crashes to two-decade low due to COVID-19
The COVID-19 crisis has caused the rate of economic growth in the CLMV bloc to be at its lowest in two decades, the CLMV economies could grow at 3.4 percent this year
The COVID-19 pandemic is having a negative impact on CLMV economies through their dependency on foreign-sourced revenue from tourism and exports says KResearchCenter.
(more…)