Vietnam receives 1.43 million foreign visitors in January
Vietnam received 1.43 million foreign tourists in January, a year-on-year increase of 42 per cent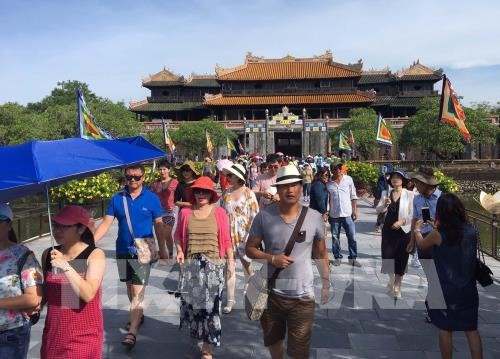 Vietnam received 1.43 million foreign tourists in January, a year-on-year increase of 42 per cent and 12.1 per cent higher than that in December 2017, says the General Statistics Office.
The number of visitors increased this month because of two main reasons —overseas Vietnamese had come to Việt Nam for Tết (Lunar New Year), and for countries in Europe, the United States and Australia, January was winter holiday season, leading to a higher demand in travelling abroad.
In January, visitors from Asia were estimated at more than one million, a year-on-year surge of 53.9 per cent.
Visitors from most of the major markets for Việt  Nam increased, including tourists from mainland China, up by 69 per cent, and South Korea, up by 84 per cent. The number of visitors increased by 22.9 per cent from Taiwan, 35.5 per cent from Malaysia, 11.3 per cent from Thailand, 16 per cent from Singapore and 36.6 per cent from Cambodia.
According to the Việt Nam National Administration of Tourism (VNAT), the domestic tourism industry has actively promoted tourism activities since the beginning of this year to attract more tourists, aiming to welcome 15-17 million tourists in the entire year.
Việt Nam attended the 2018 ASEAN Tourism Forum (ATF 2018) in Thailand from January 22-26. Within the framework of this event, Việt Nam organised many activities, such as the opening of a tourism booth at the fair and "Vietnam Night" to introduce Vietnamese tourism. Việt Nam will host ATF 2019 in Hạ Long City, Quảng Ninh Province.
In 2017, Việt Nam welcomed nearly 13 million international tourists and 74 million domestic tourists. Việt Nam's tourism industry is closely linked to ASEAN countries and partners for sustainable development of the country's tourism. — VNS
Source link
Foreign capital still heads to Vietnam
As many as 798 projects added a combined over 5.11 billion USD to their investment capital, down 23 percent year-on-year in project number but up 6.8 percent in value.
Hanoi (VNA) – The total amount of foreign investment poured into Vietnam this year to September 20 reached 21.2 billion USD, equivalent to 81.8 percent of the same period last year, reported the Ministry of Planning and Investment.
(more…)
Why Vietnam Has Become a Promising Alternative for US Businesses in Asia
Vietnam Briefing discusses trends in the Vietnam-US relationship, growing economic ties, and how US businesses can leverage and benefit from moving their production to Vietnam.
Following four decades since the end of the Vietnam War, Vietnam's relationship with the US has changed significantly.
(more…)
CLMV's economic growth crashes to two-decade low due to COVID-19
The COVID-19 crisis has caused the rate of economic growth in the CLMV bloc to be at its lowest in two decades, the CLMV economies could grow at 3.4 percent this year
The COVID-19 pandemic is having a negative impact on CLMV economies through their dependency on foreign-sourced revenue from tourism and exports says KResearchCenter.
(more…)