China's largest general insurer PICC P&C eyes global top five
China's largest general, non-life insurer, PICC Property and Casualty Limited (PICC P&C), is striving to become one of the top five global insurers by premium volume in the next five to ten years, according to a top official of the company. Wang Yincheng, president of the PICC P&C, said Saturday that in order to achieve this goal, the company seeks to increase annual premium volumes to 300 billion yuan ($46.15 billion)
China's largest general, non-life insurer, PICC Property and Casualty Limited (PICC P&C), is striving to become one of the top five global insurers by premium volume in the next five to ten years, according to a top official of the company.
Wang Yincheng, president of the PICC P&C, said Saturday that in order to achieve this goal, the company seeks to increase annual premium volumes to 300 billion yuan ($46.15 billion).
"It means that PICC P&C needs to maintain a double-digit growth rate in annual premiums," he said.
The company, which ranked No 8 in the global non-life insurance market in 2009, witnessed a 192.3 percent jump in its 2010 net profit to 5.21 billion yuan year on year, while sales revenue increased 28.8 percent to 154.31 billion yuan from one year ago.
China's economy is growing rapidly, which provides an excellent external environment for the development of China's non-life insurance industry, said Wang.
PICC P&C's parent company, the People's Insurance Company (Group) of China (PICC), is also seeking to launch an initial public offering, and the group will unveil the list of its strategic investors in one to two months, said Wu Yan, president of PICC.
The strategic investors are domestic enterprises, and the total investment scale will be about 10 billion yuan, he said.
&$&$Source: China Daily&$&$
&$
Thailand offers Sufficient infrastructure
Thailand has good infrastructure with modernized transportation facilities, as well as upgraded communications and IT networks that ensure optimum business and living conditions. State-of-the-art industrial estates boast sophisticated facilities and superior services.
The SET has replaced the Automated System for the Stock Exchange of Thailand (ASSET) with the new automated trading system named the Advanced Resilient Matching System (ARMS). This new system, which matches with those used by leading global stock market, can accommodate higher trade volumes and new products and support the planned ASEAN Linkage project. The Financial Sector Master Plan (FSMP) Phase II is expected to be implemented next year. The Financial Sector Master Plan (FSMP) Phase II, which is a five-year plan ranging from 2009-2013, will be implemented in 2009.
This plan aims to reduce operating costs of financial institutions; increase competition among financial institutions and non-bank entities through expanding the business scope permitted banks and greater foreign participation; and improve market architecture with the development of limited deposit insurance and greater variety in risk-management instruments. The new plan allows greater competition in the banking industry. The plan would strengthen the banking system by lowering the NPL ratio to less than 2 percent in 5 years (2013).
RCEP and China: Reimagining the future of trade in Asia
The Regional Comprehensive Economic Partnership (RCEP) could eventually usher in an era of much deeper regional integration: for corporates doing business in the region, their future success may well hinge on how adeptly they manage to navigate the evolution of Asia's trade landscape under the RCEP.
Last month, 15 countries in the Asia-Pacific region – including the 10 member states of the Association of Southeast Asian Nations (ASEAN) as well as China, Australia, Japan, New Zealand, and South Korea – signed the landmark Regional Comprehensive Economic Partnership (RCEP) on the final day of the 37th ASEAN Summit.
(more…)
Thailand ready to ink big Chinese-backed trade deal
The RCEP will cover all 10 Asean member states plus five partners: China, Australia, Japan, New Zealand, and South Korea and will take effect from the middle of 2021 if at least six Asean members and three partners agree to its terms.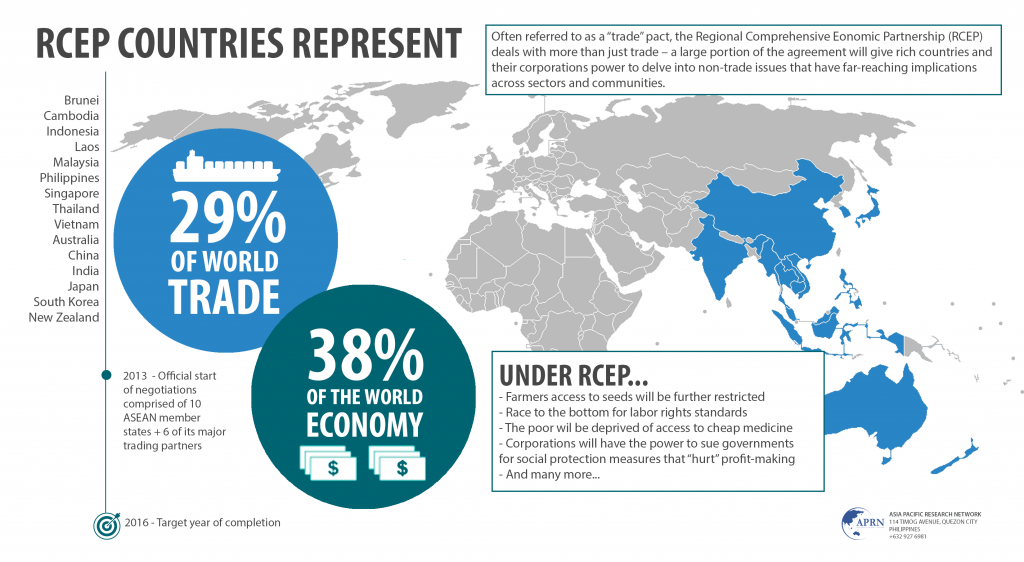 Thailand is set to sign the world's biggest free trade agreement with Japan, China, South Korea and 12 other Asia-Pacific countries at the 37th Asean Summit this week.
(more…)
Great Wall Motor (China) takes over GM factory in Thailand
The Thai production hub will become operational in the first quarter of 2021 with automobile production capacity of 80,000 units per annum.
Chinese carmaker Great Wall Motor (GWM) hosted a ceremony on November 2nd to celebrate the latest milestone in taking full ownership of Rayong Manufacturing Facility in Thailand.
(more…)