Thai economy grew 4.3% in Q3 or 3.8%YOY in the first 9 months of 2017
EIC expects the Thai economy to grow by 3.8% in 2017, up from the previous forecast of 3.6%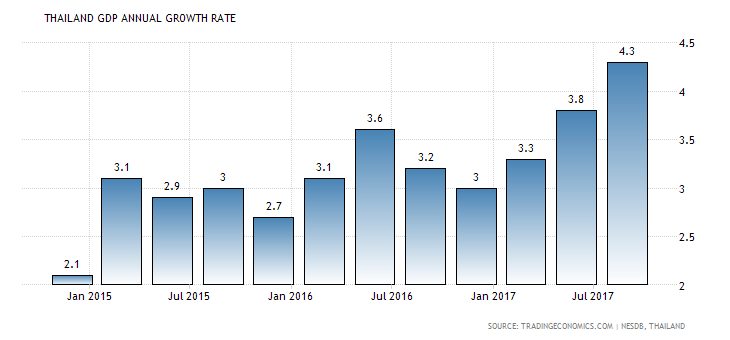 The Office of the National Economic and Social Development Board reported that Thailand's 3rd quarter GDP grew by 4.3%YOY (compared with the same quarter in the previous year), or 1.0% compared to the previous quarter before seasonal adjustment.
Thai GDP expanded by 3.8%YOY in the first 9 months of 2017
Exports and tourism remain key drivers.
Real export value in Thai baht expanded at the highest rate in 19 quarters, by 8.1%YOY, growing 5.3%YOY during the first 3 quarters of this year thanks to growths in almost all product categories and export markets.
Exports grew both in terms of price and quantity. The continual uptick in crude oil prices in the 3rd quarter boosted oil-related products exports by 25%YOY.
The better-than-expected growth of the global manufacturing sector resulted in demand for key industrial products from Thailand, particularly in the electronics and electrical appliances categories, which expanded more than 11%YOY and 4%YOY, respectively.
Tourism sector remains a key growth booster
Service exports expanded by more than 4.9%YOY thanks to a 11%YOY rise in the number of tourists from China in the 3rd quarter, turning the tide from the previous quarter's gain of only 0.1%YOY.
The percentage increase owes partly to the tougher restrictions on illegal tours that were first enacted during this period last year. Private consumption saw modest growth, driven by high-income spending. Private consumption grew by 3.1%YOY, a small increase from the previous quarter. A key driving factor remains durable goods consumption, particularly automobiles.
Car sales continued growing at a high rate, at 11.6%YOY. Growth of non-durable goods consumption such as food and beverage, however, increased minimally from the previous quarter, while consumption of semi-durable goods such as clothing slowed down.
Exports boosted private investments, while public investments still contracted
Investments in the private sector expanded 2.9%YOY owing mainly to investments in machinery and equipment, which grew by 4.3%YOY. Firms are making investments to up their production capacity in response to increasing exports demand.
Construction investments, on the other hand, fell. On the public side, investments are still contracting at 2.6%YOY, a decline in investments both by the central government and state enterprises since there has been no new mega-projects and some projects are almost completed.
EIC expects the Thai economy to grow by 3.8% in 2017, up from the previous forecast of 3.6%, in line with the global economy, which continually exceeded growth forecasts. The Thai economy stands to benefit from exports in the remaining months.
The economies of main trading partners such as the US, Eurozone, Japan, and China are likely to continue growing from now through to 2018, boosting confidence in trade, investment, and consumption.
This positive global economic outlook will also result in continuing demand for Thai exports. Looking ahead, however, the export sector may face pressure from low oil prices and the likely drop in prices of some commodities.
The Thai baht's strength relative to competitors in the region may also affect exporters' competitiveness in terms of price, particularly of commodities.
Private consumption is likely to pick up thanks to better conditions and government support, even as the labor market stagnates. Domestic consumption is likely to recover thanks to a better spending outlook after the floods. Different consumption activities are also set to resume after the mourning period.
Government measures such as support for low-income earners through state welfare cards and tax measures to boost end-of-year spending will also drive up consumption. Still, household purchasing power remains weak, as agricultural products prices remain low and the labor market stagnates. Employment in the first 9 months fell 0.7%YOY. Particularly in the manufacturing sector, employment dropped 3.2%YOY, a sign that recovery in exports has not widely…
Author: Yuwanee Ouinong and Pimnipa Booasang
96% of Foreign Investors still confident in Thailand says BOI
The Board of Investment of Thailand's (BOI) latest survey, shows most foreign investors, estimated at 96%, are still confident in the country, and are willing to bring forward their investments.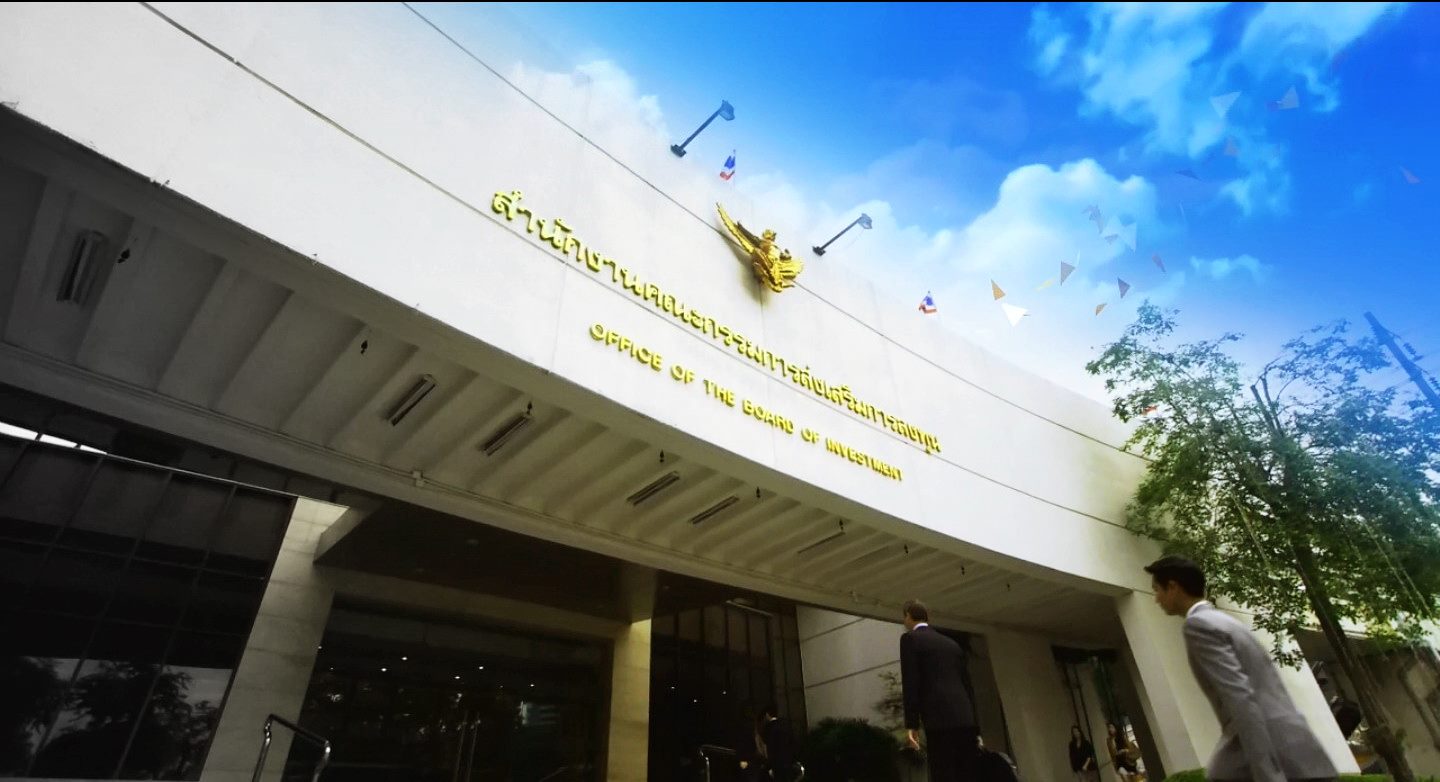 BANGKOK (NNT) – With the COVID-10 pandemic causing significant disruption around the world including in Thailand, the Board of Investment of Thailand's (BOI) latest survey, shows most foreign investors, estimated at 96%, are still confident in the country, and are willing to bring forward their investments.
(more…)
Thailand Tops Bloomberg's Emerging Markets List
Bloomberg surveys show that analysts are penciling in high rates of growth next year for some of those that have been hardest-hit in 2020.
Thailand and Russia are well placed to be among the emerging-market standouts that could beat expectations next year, according to a Bloomberg study of 17 developing markets gauging their outlook for 2021.
(more…)
COVID-19 pandemic wiped out 81 million jobs in Asia-Pacific countries
Some 81 million jobs lost as COVID-19 creates turmoil in Asia-Pacific labour markets, according to ILO report.
Drops in working hours due to the Covid-19 crisis have had a devastating effect on jobs and incomes in Asia and the Pacific according to a new report by the International Labour Organization (ILO).
(more…)