Heatwave in Thailand sparks record power consumption peak
The heatwave in Thailand has fueled a new record for energy consumption and prompted health warnings as average peak temperature each day this month has been above 40 degrees Celsius.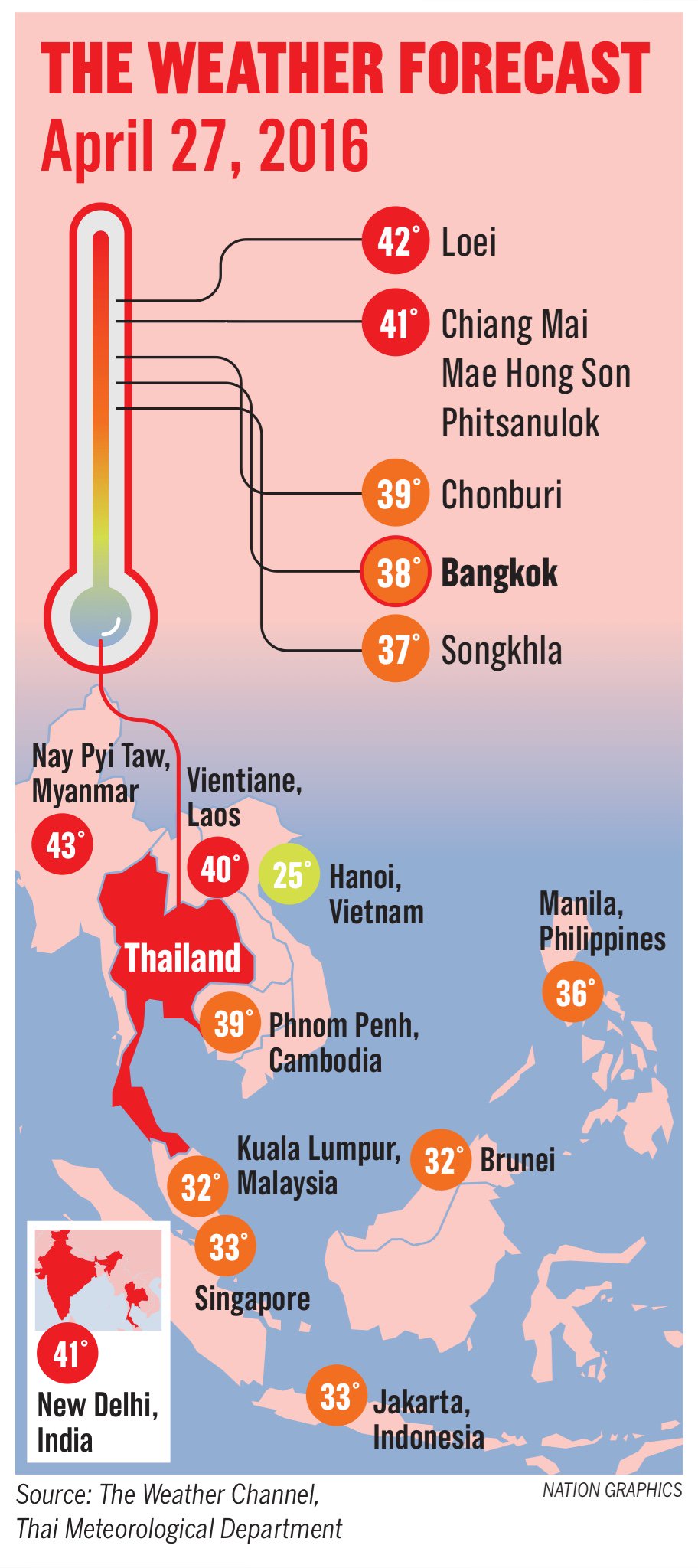 The Electricity Generating Authority of Thailand (Egat) expects electricity consumption to hit another record high this week, as the country is experiencing its longest heatwave in 65 years.
Consumption hit a new high at 29,004.6 megawatts on April the 26th, the fourth peak so far this year.
The peak occurred around 2 pm when the average temperature across Thailand was 38.1 degrees Celsius.
Electricity consumption could break that record some time this week, possibly going as high as 29,200 MW, Egat governor Soonchai Kumnoonsate said.
Beside record breaking temperatures, the heatwave is also the longest registered since 1960, with rainy season yet to begin.
Given Thailand's installed capacity of 32,000 MW, the forecast demand leaves power reserves at about 8.7 per cent.
April in Thailand is typically hot and sweaty, but this year's scorching weather has set a record for the longest heat wave in at least 65 years.
The average peak temperature each day this month has been above 40 degrees Celsius, with the mercury spiking one day to 44.3 degrees C — just short of the all-time record.
Thailand faces longest heatwave in 65 years
The heat wave has also fueled a new record for energy consumption and prompted health warnings on everything from food-borne illness to drowning, both of which rise every April when Thailand's hottest month coincides with school summer break.
Egat is prepared to boost generating capacity but it urged the public to conserve power for one hour between 2pm and 3pm every day until May 20.
Countries across Southeast Asia are feeling the heat, which scientists say is triggered by El Nino, a warming of parts of the Pacific Ocean that changes weather worldwide and tends to push global temperatures up.
El Nino has also been blamed for causing the worst drought in decades across the region.
Thailand's Department of Disease Control has warned people to beware of food poisoning and other food-related illnesses that typically increase during hot weather when bacteria can thrive on unrefrigerated food.
Meanwhile, Thailand expects the wet season to start in mid-May, which should bring down temperatures and reduce power use.
Temporary relief is forecast later this week with scattered tropical storms. But it will be brief, with the heat expected to return next week before tapering off in mid-May when the monsoon rains are expected.
Other Asean countries affected by drought and heatwave
National all-time record high of 42.6°C (108.7°F) set at Preah Vihea on April 15th. This surpassed the record set just two days previously at Bantey Ampil (42.2°C/108.0°F on April 13th). Prior to this year, the maximum measured temperature in Cambodia was 41.4°C (106.5°F) at Stoeng Treng in 1960. The capital city of Phnom Penh also measured its highest temperature on record with a 41.0°C (105.8°F) reading and about half a dozen other cities and towns saw temperatures peak above the previous national record of 1960!
Laos
National all-time record high of 42.3°C (108.1°F) set at Seno on April 13th. This surpassed the former record of 42.0°C (107.6°F) record at Savannakhet in March 1933. An all-time national record high minimum temperature was measured at Takhek on April 13th when the low fell to only 30.5°C (86.9°F).
Thailand
Near national record achieved at Sukhothai on April 12th with a 44.3°C (111.7°F) reading just shy of the record 44.5°C (112.1°F) observed at Uttaradit on April 27, 1960. In addition to Sukhothai at least 50 Thai towns and cities broke or tied their all-time record maximum temperatures (including the normally temperate island resort of Ko Samui with a 38.0°C/100.4°F reading).
The minimum of 31.4°C (88.5°F) at Sakhon Nakon on April 15th was likely the warmest low ever measured in the country outside of the Bangkok metropolitan area.
Heatwave causes 25 provinces to be declared drought-stricken areas
25 provinces which cover 114 districts and 501 villages have been declared drought-stricken areas by the Department of Prevention and Mitigation of Public Disasters, said Mr Chatchai Promlert, the department chief, on Monday.
The drought-stricken provinces are divided into three groups depending on the severity of the drought problem.
One group was identified as provinces who have problem with water for consumption. These include Surin, Chainat, Chon Buri, Khon Kaen, Saraburi, Phichit, Lamphun and Trang.
The second group was identified as provinces which do not have enough water for farming. These include Chiang Mai, Phayao, Sukhothai, Nakhon Phanom, Maha Sarakham, Buriram, Kanchanaburi, Sakaeo and Chanthaburi.
The third group includes Nakhon Sawan, Petchaburi, Uttradit, Satun, Nakhon Ratchasima, Trat and Krabi. They experience water shortage for consumption and farming.
Real estate Sustainable development spurred by COVID-19 pandemic
There is an increasing awareness of the environmental impact of real estate: the World Green Building Council suggests that buildings are responsible for upwards of 40% of the world's greenhouse gas emissions.
Thailand accepts World Bank's climate change grant
Thailand has approved an acceptance draft for a 5 million dollar grant from the World Bank, to fund projects reducing the emission of environmentally harmful HFC gas.
BANGKOK (NNT) – In addition to several projects and agreements approved in the Cabinet meeting yesterday, the government has agreed to accept a 5 million dollar U.S. grant from the World Bank to reduce emissions of hydrofluorocarbon gas (HFC), which is one of the greenhouse gases affecting the globe's ozone layer.
(more…)
Covid-19: An Historic opportunity to create a more sustainable East Asia
The COVID-19 crisis is occurring at a time of fervent populist nationalism when the prospects of reliving a late-19th century-style era of ratcheting up geopolitical tension, trade protectionism and superpower rivalry are very real.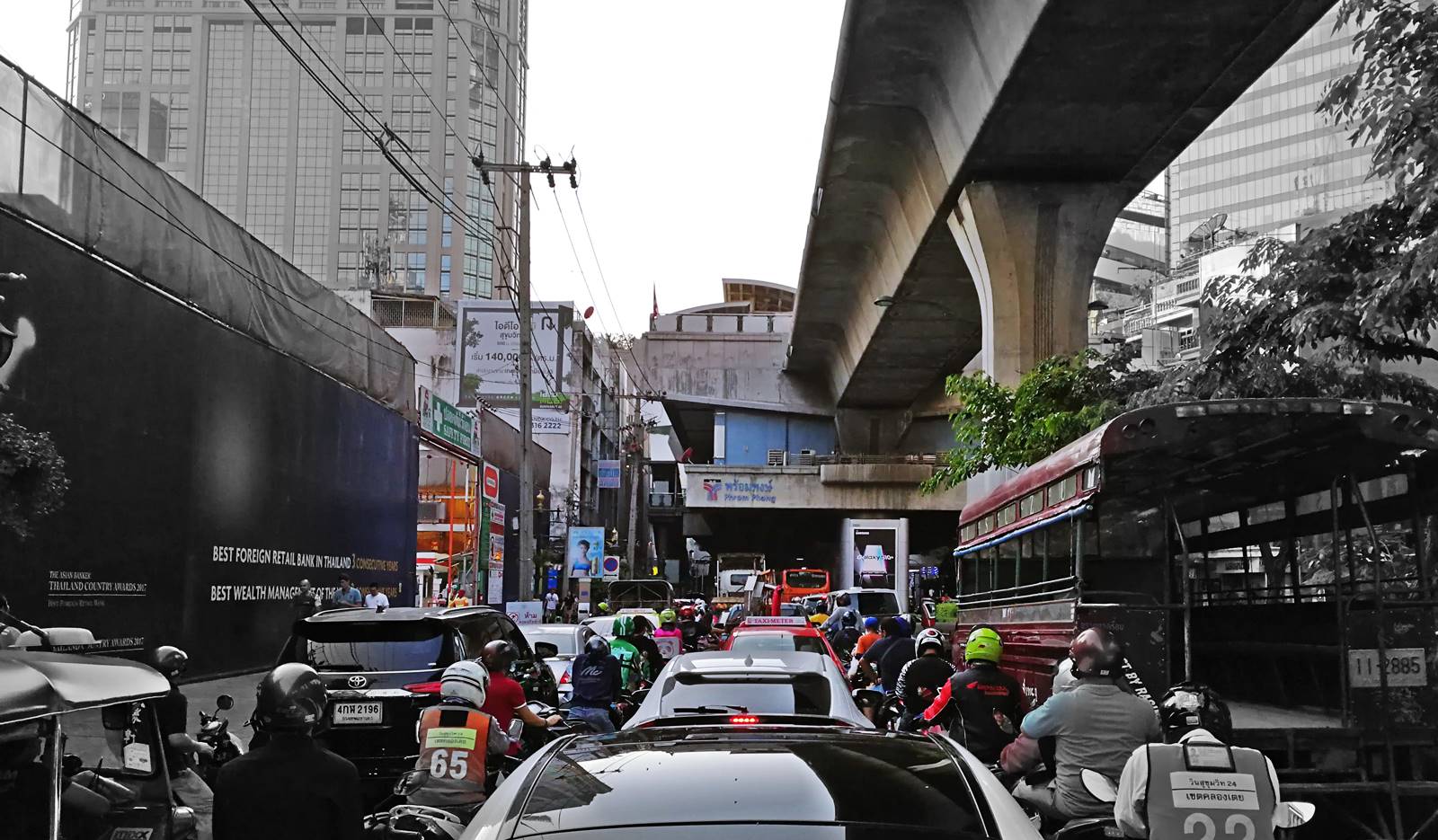 History shows that the deepest economic and social changes occur in the aftermath of major crises, catastrophes or conflicts. They have catalytic, disruptive effects on existing orders, creating new realities and different ways of thinking about the future. East Asia is now in an important phase of its history.
(more…)