Chuvit's Mission against Corruption
MP Chuvit Kamolvisit was talking to the press yesterday at the Foreign Correspondents' Club of Thailand describing his mission to fight corruption and illegal gambling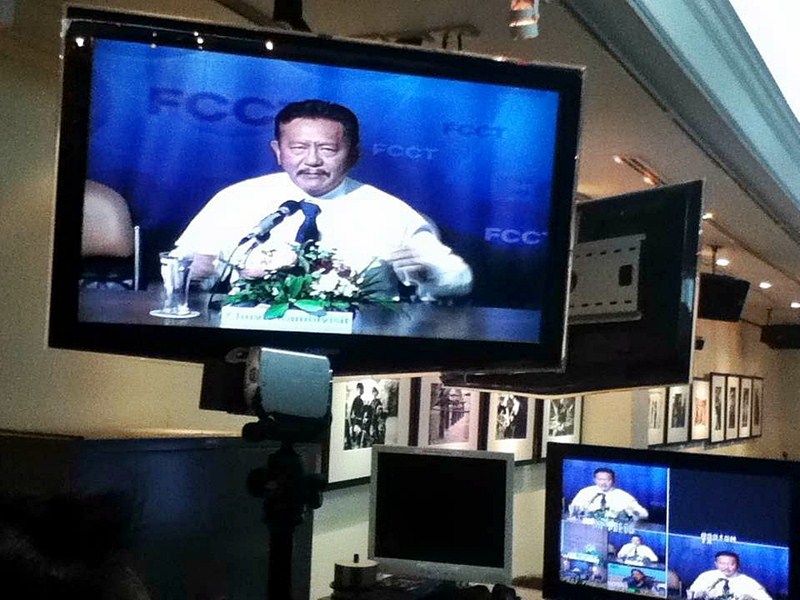 MP Chuvit Kamolvisit was talking to the press yesterday at the Foreign Correspondents' Club of Thailand describing his mission to fight corruption and illegal gambling
Less than a month after Parliament opened, ex-massage parlor tycoon turned anti-corruption advocate Chuvit Kamolvisit exposed an illegal gambling den that led to the transfer of six high-ranking police officers. He also got kicked out of the lower chamber for complaining about his seat. All in all, not a bad start for the mustachioed dog lover whose fledgling Rak Prathet Party took a greater-than expected four seats in the July 3 election.
Everybody has dreams, mine is that one day my country will really fight corruption. Today corruption is everywhere in Thailand, but Thai society does not encourage people to come forward and take position as individuals.
he said speaking in front of a crowd of Thai and foreign journalists.
Chuvit's political career has been colorful, to say the least. In 2003, he was arrested and spent a month in jail after being accused of hiring 600 men to clear low-rent tenants off a piece of land he owned on Sukhumvit soi 10. Angered by the incarceration, he revealed payments of millions of baht to corrupt police.
Shortly after winning a seat in the 2005 election with Chart Thai, the Constitutional Court disqualified him on a technicality. In 2008, his candidacy for Bangkok governor hit a speed bump after he beat up a reporter who challenged his manliness.
Chuvit's fortunes reversed in the last election, where his clenched brow, loosened tie and adorable dog Moto Moto featured heavily on campaign posters declaring a battle against corruption. His witty remarks and fearless critiques struck a chord among voters looking for an alternative to the Red-Yellow divide that has defined the political landscape since the 2006 coup.
Rak Thailand Party leader and MP Chuvit Kamolvisit has denied a rumor that his video clip of a gambling den is in aid of the Government's attempt to unseat National Police Chief Police General Wichien Pojphosri.
In response to a report that the footage of an underground casino recently presented to Parliament by Mr Chuvit was part of his conspiracy with the Government to sack Pol Gen Wichien from the police chief post, the Rak Thailand Party leader dismissed the information as false. He vowed that the evidence of illegal gambling was genuinely aimed to benefit the society without any ill intention against the incumbent Police Chief.
The outspoken MP believed such a rumor had been disseminated by those involved in the illegal gambling case due to their frustration with him for publicizing the video clip. He then admitted that he had received some threats but asserted that he was not shaken by them as his previous action was taken with public interests in mind.
In addition, Mr Chuvit stated that he also had information of many other gambling dens in hand; however, it could not yet be made public as more evidence still needed to be acquired. According to the MP, he will reduce his role in the illegal gambling issue from now on in order to let the police and the Office of Public Sector Anti-Corruption Commission do their part.
via Chuvit: Casino clip not aimed to back Govt's plan to dismiss Police Chief : National News Bureau of Thailand.
Study suggests wiping out the industry is impossible, so it is better toregulate and control it by King-oua Laohong
Gambling should be legalised and regulated because it is a lucrative industry and it is inevitable people will gamble, while police will take bribes to allow it, a respected academic said yesterday.
Sungsidh Piriyarangsan, director of Chandrakasem Rajabhat University's PhD Programme in Good Governance, conducted research into gambling in Thailand and concluded the illicit business can never be eliminated.
Some casinos might close temporarily when authorities publicly flex their muscles, but they always reopen later, his research found.
Mr Sungsidh said his research revealed there are more than 170 casinos in Bangkok. Ten are large and permanent, 60 are small and medium-sized, while more than 100 are mobile outfits. Between 180 and 200 billion baht changes hands in Bangkok dens annually. Casino owners make 38-40 billion baht in profit and pay 5-20% of their illegalgains, or 2-8 billion baht, as bribes.
Thailand Saw $1.7 billion Applications in Bio-Circular-Green (BCG) Investments in 2020, BOI Says
The BCG model, as defined by the Thai Government, encompasses industries that allow inclusive, sustainable growth while reducing waste, pollution and dependence on finite resources.
In the first nine months of 2020, local and international companies applied to invest as much as $1.7 billion in Thailand in more than 300 projects in the sectors listed as "BCG", or Bio-Circular-Green economic activities focused on environmental protection and sustainability, according to data collected by the Thailand Board of Investment (BOI).
(more…)
96% of Foreign Investors still confident in Thailand says BOI
The Board of Investment of Thailand's (BOI) latest survey, shows most foreign investors, estimated at 96%, are still confident in the country, and are willing to bring forward their investments.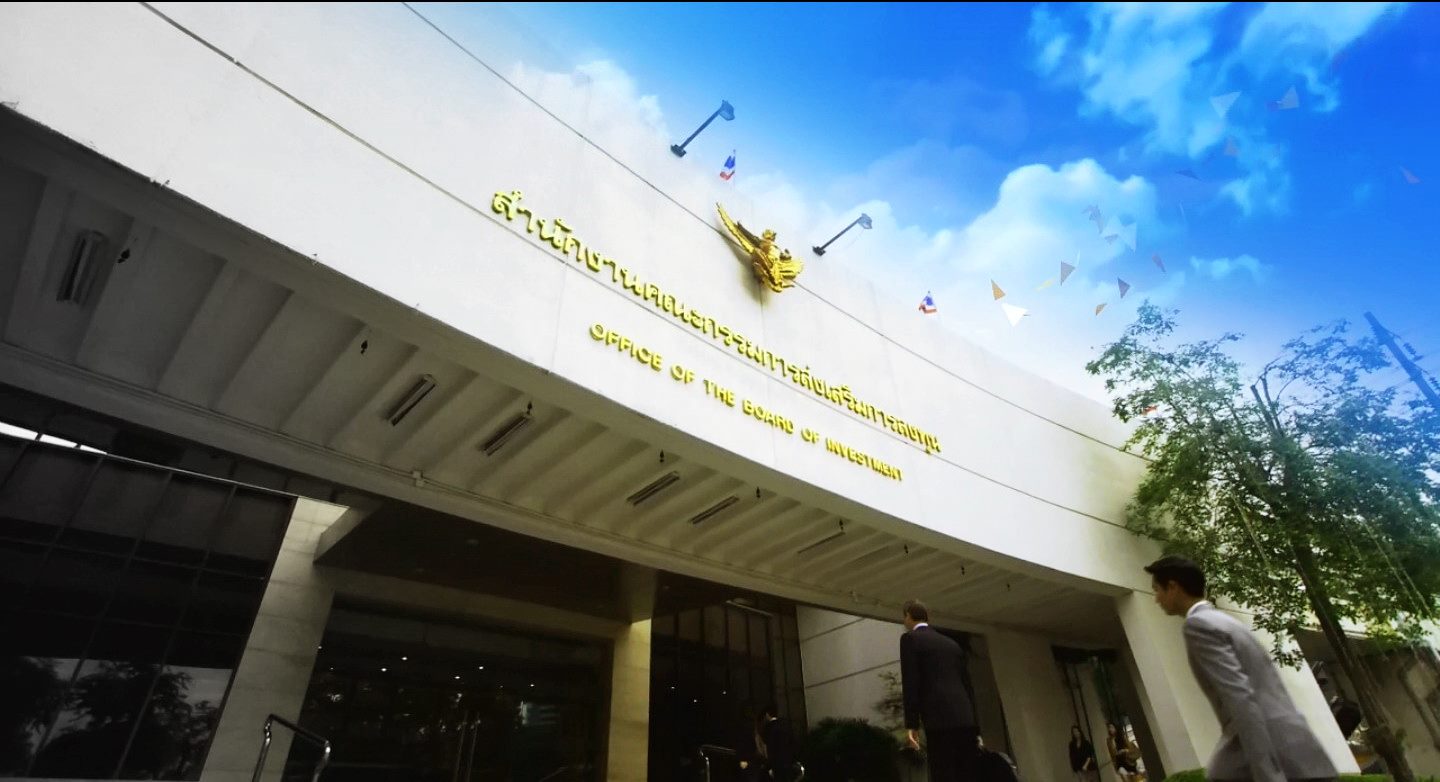 BANGKOK (NNT) – With the COVID-10 pandemic causing significant disruption around the world including in Thailand, the Board of Investment of Thailand's (BOI) latest survey, shows most foreign investors, estimated at 96%, are still confident in the country, and are willing to bring forward their investments.
(more…)
Thai Firm to produce 200 million doses of Covid-19 vaccine
Thai Firm Siam Bioscience Joins with AstraZeneca to Make COVID-19 Vaccine for Southeast Asia and says it will produce 200 million doses of its anti-coronavirus vaccine in Thailand next year.
Thailand aims to vaccinate up to half of its population against Covid-19 next year according to the director of its National Vaccine Institute, Dr. Nakorn Premsri.
(more…)