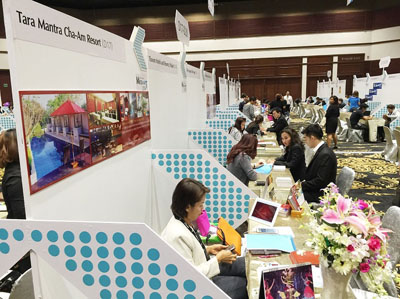 BANGKOK, 7 June 2016: Thailand Convention and Exhibition Bureau plans to boost domestic events to support the government policies to revitalise the country's economic growth.
TCEB president, Nopparat Maythaveekulchai, said domestic MICE market programmes would play a key role to drive sustainable growth in 2017.
"The bureau has outlined its DMICE promotions with four key strategic projects to encourage public, private, people, and communities to work hand in hand to move forward," he said last week.
He said the bureau and 21 public and private organisations will encourage companies and organisations to host at least one meeting, seminar, or incentive travel in other provinces this year.
There is usually a rush to host seminars annually as the government fiscal year ends 30 September and state organisations attempt to spend budgets ahead of the deadline.
TCEB will work with the Ministry of Tourism and Sports, the Tourism Authority of Thailand, Designated Areas for Sustainable Tourism Administration, the Thai Chamber of Commerce and Board of Trade of Thailand, the Federation of Thai Industries, the Stock Exchange of Thailand to encourage more events.
TCEB says it will support domestic events by providing transport to support DMICE activities at more than 30 Royal Initiative Projects across the country, booked either through 44 participating leading tour operating agencies, or by individual corporate travel planners.
The bureau will also arrange 10 workshops in Nong Kai, Narathiwas, Chiang Rai, Nakhon Panom, Kanchanaburi, Tak, Mookdaharn, Sa Kaew, Song Khla, and Trat…
Thais encouraged to travel more to help stimulate economy
The Thai government has launched many stimulus campaigns to revive the domestic economy, particularly in the heavily-hit tourism industry.
BANGKOK (NNT) – With more public holidays coming up in November and December, the government is encouraging people to travel to different parts of the country and use the government's spending stimulus measures.
(more…)
Foreign embassies in Thailand issue travel alerts
Several foreign embassies in Thailand have issued alerts to inform their citizens of political gatherings this weekend, including the U.S, United Kingdom, Canada and New Zealand.
Several foreign embassies in Thailand have issued alerts to inform their citizens of political gatherings this weekend.
(more…)
Thailand seeks shorter quarantine period to attract more foreign tourists
The Public Health Ministry has proposed that the mandatory quarantine period for tourists be reduced from 14, to 10 or 7 days, according to the risk level of each country.
Thailand is seeking ways to shorten the 14-day quarantine for foreign tourists to attract more arrivals as the country opens up.
(more…)