Thais ready to splurge at New Year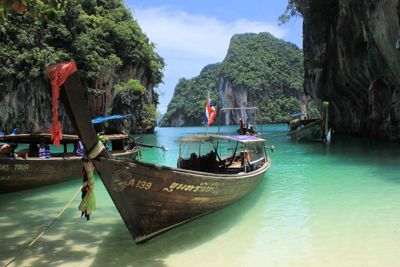 BANGKOK, 16 December 2016: Kasikorn Research Centre estimates Bangkok residents will spend THB28,500 million during the upcoming of New Year period, but the growth trend when compared with last year will shrink.
The bank's think-tank said business operators hope the New Year festival will stimulate sales, but it is very likely that celebrations, toned-down during the country's mourning period for the Late King, could slow New Year sales.
The centre estimates that during the New Year holiday Bangkok residents will spend THB28,500 million, up just 5.0% when compared to an 8% improvement achieved during the festival celebrations last year.
Of the spending projections, THB9,200 million will go to the food and beverage trade, while THB8,000 million will go to tourism mainly for accommodation.
Shopping will account for THB4,400 million mostly spent on souvenirs and presents, while THB4,100 million will be spent on cash gifts to parents and siblings and THB2,800 to making merit mainly in Buddhist temples.
The average New Year spend per person will be THB5,400, the centre estimates.
The Thai Cabinet has approved an extra public holiday, 3 January, in addition to 2 January, to give residents a four-day break.
The New Year holiday will start Saturday 31 December and end Tuesday 3 January.
The Cabinet on Tuesday approved a tax break for year-end shopping, which should help to boost the retail sector and encourage residents to spend more, the centre added.
The tax incentive will allow each taxpayer to deduct the value of domestic purchases of goods and services from personal…
Thais encouraged to travel more to help stimulate economy
The Thai government has launched many stimulus campaigns to revive the domestic economy, particularly in the heavily-hit tourism industry.
BANGKOK (NNT) – With more public holidays coming up in November and December, the government is encouraging people to travel to different parts of the country and use the government's spending stimulus measures.
(more…)
Foreign embassies in Thailand issue travel alerts
Several foreign embassies in Thailand have issued alerts to inform their citizens of political gatherings this weekend, including the U.S, United Kingdom, Canada and New Zealand.
Several foreign embassies in Thailand have issued alerts to inform their citizens of political gatherings this weekend.
(more…)
Thailand seeks shorter quarantine period to attract more foreign tourists
The Public Health Ministry has proposed that the mandatory quarantine period for tourists be reduced from 14, to 10 or 7 days, according to the risk level of each country.
Thailand is seeking ways to shorten the 14-day quarantine for foreign tourists to attract more arrivals as the country opens up.
(more…)