Thailand's banks to reach unbanked customers
In this Global Platform video, Tan Choon Hin, CEO of United Overseas Bank Thailand, discusses industry trends across ASEAN, including regional integration and the push towards Industry 4.0.
For Thailand, the digitalisation strategy that is being pursued under Thailand 4.0 is improving internet infrastructure, which in turn is opening up opportunities for digital banking.
Tech solutions and programmes for the country's significant small and medium-sized enterprise sector are broadening banks' traditional customer bases.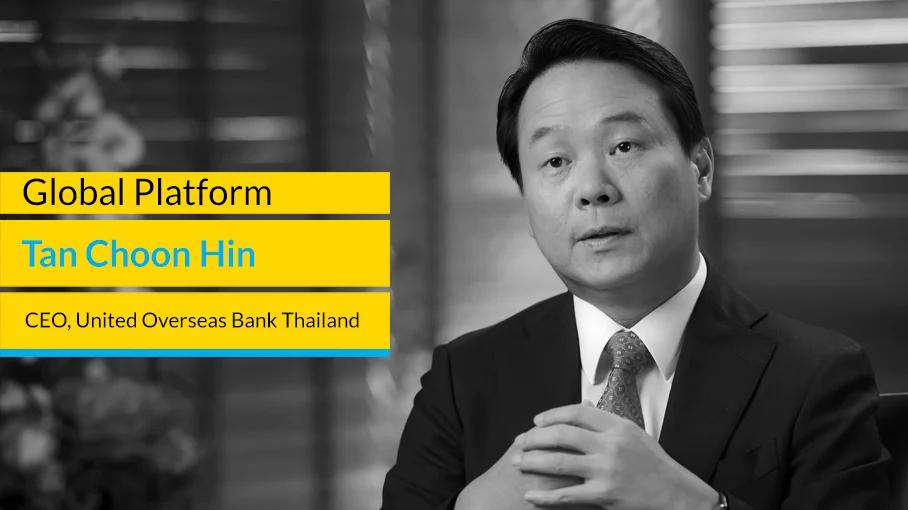 Tan Choon Hin, CEO, United Overseas Bank Thailand |
Oxford Business Group
Thai Banks launch packages for clients affected by COVID-19
Commercial banks in Thailand have offered refinancing services to some 30,000 clients, worth 234 billion baht in total.
All commercial banks in Thailand have pledged to offer special financial aid to customers and businesses affected directly or indirectly by the economic implications of COVID-19, ensuring sufficient cash for customers to make withdrawals at any time.
(more…)
Thailand raises threshold to 1 million US dollars for repatriation
In a bid to lessen pressure on the Thai baht, the Bank of Thailand has increased to $1M the limit for foreign funds that do not need to be repatriated
The Bank of Thailand has relaxed foreign exchange regulations by increasing the threshold for proceeds that do not need to be repatriated from current $200,000 to USD 1,000,000 .
(more…)
Thai economy continued on a decelerating trend in January
In January 2020, the Thai economy continued to be on a decelerating trend According to a Press Release by the Bank of Thailand
According to the Press Release on the Economic and Monetary Conditions for January 2020 (Bank of Thailand), the Thai economy continued on a path of deceleration in January, contracting from the previous month in the value of merchandise exports excluding gold, manufacturing production, private investment indicators, and public spending.
(more…)
April 6 @ 8:00 am
-
April 7 @ 5:00 pm
BMT
April 8 @ 8:00 am
-
April 9 @ 5:00 pm
BMT
April 13 @ 9:00 am
-
April 14 @ 6:00 pm
BMT
April 17 @ 9:00 am
-
April 18 @ 5:00 pm
BMT
August 21 @ 8:00 am
-
August 22 @ 5:00 pm
BMT