Thai Airways regains three first place Skytrax Awards
Thai Airways International (THAI) has received three prestigious awards at the Skytrax 2017 World Airline Awards Ceremony held in Paris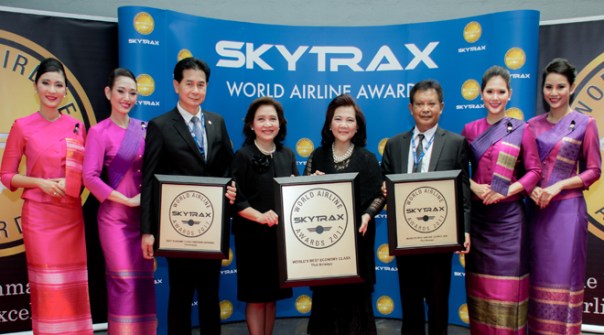 Thai Airways International (THAI) has received three prestigious awards at the Skytrax 2017 World Airline Awards Ceremony as the World's Best Economy Class, World's Best Airline Lounge Spa – for the third consecutive year, and Best Economy Class Onboard Catering. 
The award ceremony was held yesterday at the Paris Air Show, Paris-Le Bourget Airport, France.
In addition, THAI also gained recognition under the categories: one of three airlines with the World's Best Airport Services 2017 and one of three airlines with the Best Economy Class Airline Seats.
Mrs. Usanee Sangsingkeo (centre), THAI Acting President said,
"THAI and its employees have worked exceptionally hard to make continual developments on our products and services, for the utmost comfort and convenience of its passengers.
We are honoured to receive these three top Skytrax awards in recognition for excellent products and services as a premium, full service carrier, which shows that our standards are amongst the best airlines in the world."
World Airline Awards are the results of the Skytrax survey that was first launched in 1999 as the first worldwide, annual airline customer satisfaction survey, which is 100 percent independent, impartial, and global.
This year's Skytrax survey was conducted during August 2016 to May 2017 amongst more than 19.87 million travellers, surveying products and services of over 320 airlines.
Skytrax World Airline Awards are a global benchmark of airline excellence, and described as "the Oscars of the aviation industry."
Thai Firm to produce 200 million doses of Covid-19 vaccine
Thai Firm Siam Bioscience Joins with AstraZeneca to Make COVID-19 Vaccine for Southeast Asia and says it will produce 200 million doses of its anti-coronavirus vaccine in Thailand next year.
Thailand aims to vaccinate up to half of its population against Covid-19 next year according to the director of its National Vaccine Institute, Dr. Nakorn Premsri.
(more…)
Great Wall Motor (China) takes over GM factory in Thailand
The Thai production hub will become operational in the first quarter of 2021 with automobile production capacity of 80,000 units per annum.
Chinese carmaker Great Wall Motor (GWM) hosted a ceremony on November 2nd to celebrate the latest milestone in taking full ownership of Rayong Manufacturing Facility in Thailand.
(more…)
Despite Covid-19, why is M&A booming in South-East Asia?
A global survey of more than 2900 C-suite executives, published by multinational consultancy EY in May, found that 47% of South-east Asian respondents would actively pursue M&A in the coming 12 months, above the 10-year average of 43%
While the coronavirus pandemic has had a negative impact on many businesses throughout 2020, a recent rebound in mergers and acquisitions (M&A) has pointed towards a partial recovery in investor sentiment – as well as demonstrating that certain sectors have taken on greater importance as a result of Covid-19.
(more…)