Horrific pack attackers arrested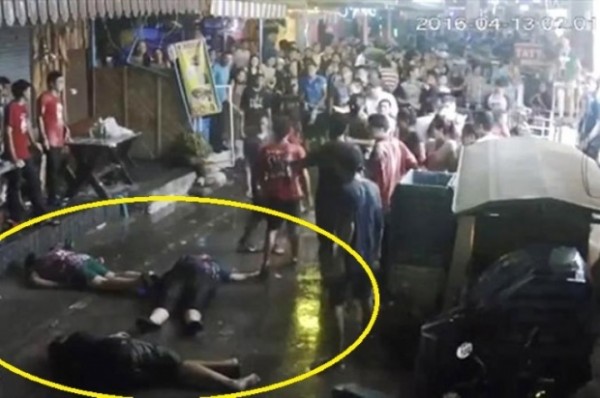 HUA HIN, 29 April 2016:  Four Thai men have now been arrested for the brutal attack on a British family in Hua Hin during Songkran, while the identities of the victims have also been revealed, Thai Visa.Com reported earlier today.
The victims have been named as Lewis Owen, 68, his wife Rosemary Owen, in her sixties, and their son Lewis John Owen, 43. They are believed to be from Wales.
On Thursday, a photograph was released to local media showing Rosemary recovering in her hospital bed, pictured alongside officials, who hospital staff claimed were for the Thailand Authority of Thailand.
There were also as yet unconfirmed reports that some of the suspects were out on bail.
A  CCTV video of the attack in Soi Bintabaht, 13 April  has been shared, worldwide, with news organisations, newspapers from New Zealand to the UK and  social media platforms reporting the incident that will have a disastrous impact on the nation's tourism.
Worldwide media quoted Kulsawek Sawekwannakorn, a Hua Hin based journalist for Daily News, who wrote on his Facebook page that four men have been arrested. Siwa (Neng) Noksri and Chaya (Boy) Jaibun are the latest two along with Supatta (Mong) Baithong and Yingyai (M) Saengkhamin, both 32, who were arrested 17 April and shown in bulletproof vests in front of grim-faced police.
Supatta has already given evidence that he was drunk and offered the lame excuse that the altercation started after the younger Owen brushed his arm.
The video clearly shows a full-scale melee as several Thai men assaulted the tourists ultimately leaving them all…
Thais encouraged to travel more to help stimulate economy
The Thai government has launched many stimulus campaigns to revive the domestic economy, particularly in the heavily-hit tourism industry.
BANGKOK (NNT) – With more public holidays coming up in November and December, the government is encouraging people to travel to different parts of the country and use the government's spending stimulus measures.
(more…)
Foreign embassies in Thailand issue travel alerts
Several foreign embassies in Thailand have issued alerts to inform their citizens of political gatherings this weekend, including the U.S, United Kingdom, Canada and New Zealand.
Several foreign embassies in Thailand have issued alerts to inform their citizens of political gatherings this weekend.
(more…)
Thailand seeks shorter quarantine period to attract more foreign tourists
The Public Health Ministry has proposed that the mandatory quarantine period for tourists be reduced from 14, to 10 or 7 days, according to the risk level of each country.
Thailand is seeking ways to shorten the 14-day quarantine for foreign tourists to attract more arrivals as the country opens up.
(more…)